Stop by our glassblowing studio and gallery to say hi to our talented artisans and take a tour of our unique space in historic downtown Centralia!
15 years in downtown centralia
We've been creating glass artwork in downtown Centralia, WA for more than 15 years. Our founder, Kevin M Regan began blowing glass at the age of 16,  he envisioned a place where anyone can learn about glassblowing and soon after, he opened Central GlassWorks in October 2005.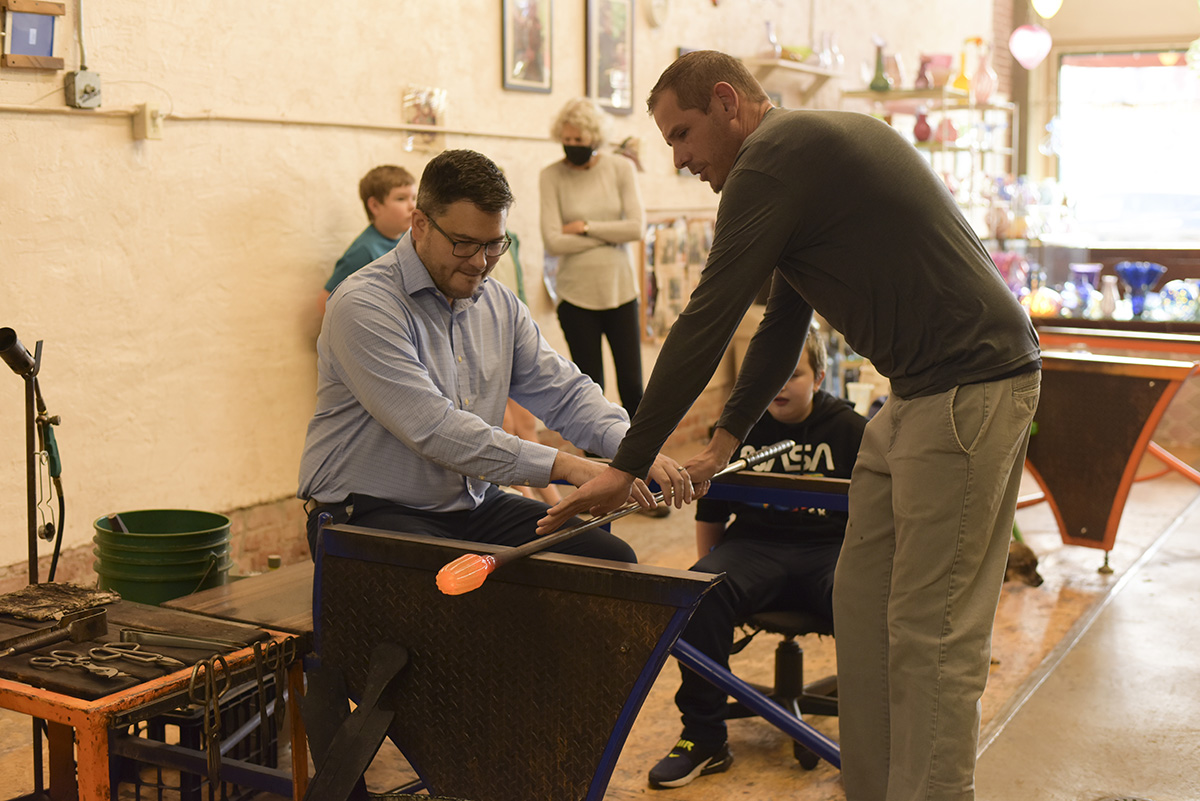 LEARN FROM US
Glassblowing has fundamentally remained unchanged over the ages, although the means in which the glass is brought to a working tempurature has evolved. Coal and hardwoods have been replaced by electricity and gas. A glassblower's journey involves more than glass- knowledge in electrical, plumbing, and masonry are key in operating even the most basic glassblowing studio.
ONE OF A KIND GIFTS
Our gallery is full of beautiful, hand-crafted items. You can shop in-person with our friendly staff or browse our online shop!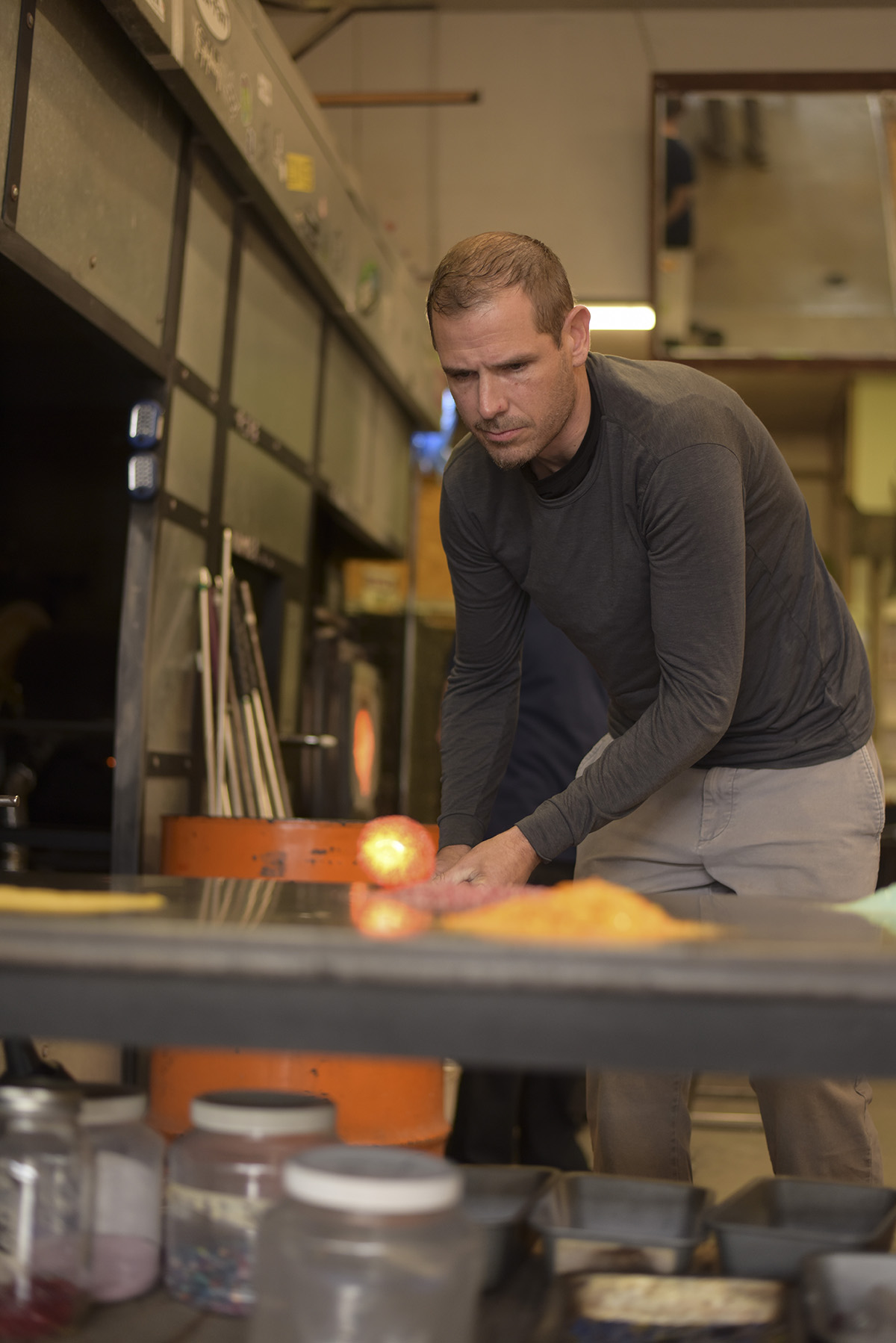 KEVIN M REGAN
OWNER/FOUNDER
KEVIN MICHAEL REGAN is the owner and resident artist of Central GlassWorks. He has been blowing glass for more than 25 years. Regan established his first studio, Central GlassWorks, in November 2005 at 26 years old. He is a single parent of two beautiful children, Iris and Elliott.
Regan picked up his first blow-pipe when he was 16 years old in a class taught by Scott Darlington at Fifth Avenue Glass, now known as Seattle Glass. He started assisting classes at the age of 17 and was teaching beginner classes by the age of 19. After several years at Seattle Glass, Regan began traveling.
With the urge to do more than just blow glass, he landed an apprenticeship with the most prominent glass carver in the world, Kelsey Murphy, who at that time led the cameo division of Pilgrim Glass. Regan lived in the hills of West Virginia on Murphy's ranch for almost four months. It was there that he launched his trade as a glass carver. It was also his first experience living in a rural setting.
Under the wing of Kelsey Murphy, Regan toured several European countries. In the Black Hills of Manchester England, he was able to experiment with different techniques in both carving and blowing. In the Brierley Hill community a direct descendant of Thomas Webb, a pioneer of cameo glass, gave Regan his first and only taste of the copper wheel. Kelsey Murphy took him to Denmark and Sweden as well, where he was able to try his hand at the Swedish style. He worked briefly at both Orrefors and Kosta Boda.
His travels took him as far as the island of Murano off of Venice in Italy where he volunteered several weeks assisting a family of glass blowers. Regan was also able to talk his way into working with one of the fifteen, nine man glass blowing teams of Waterford Crystal in Ireland.
Regan has also taught at the Eugene Glass School in Oregon. He worked for David Garcia in southern Washington and at Vitreluxe Glass for Lynn Read in Portland, Oregon. Regan now divides his time between the glass studio and family life with his two children. Bliss is found when those two overlap.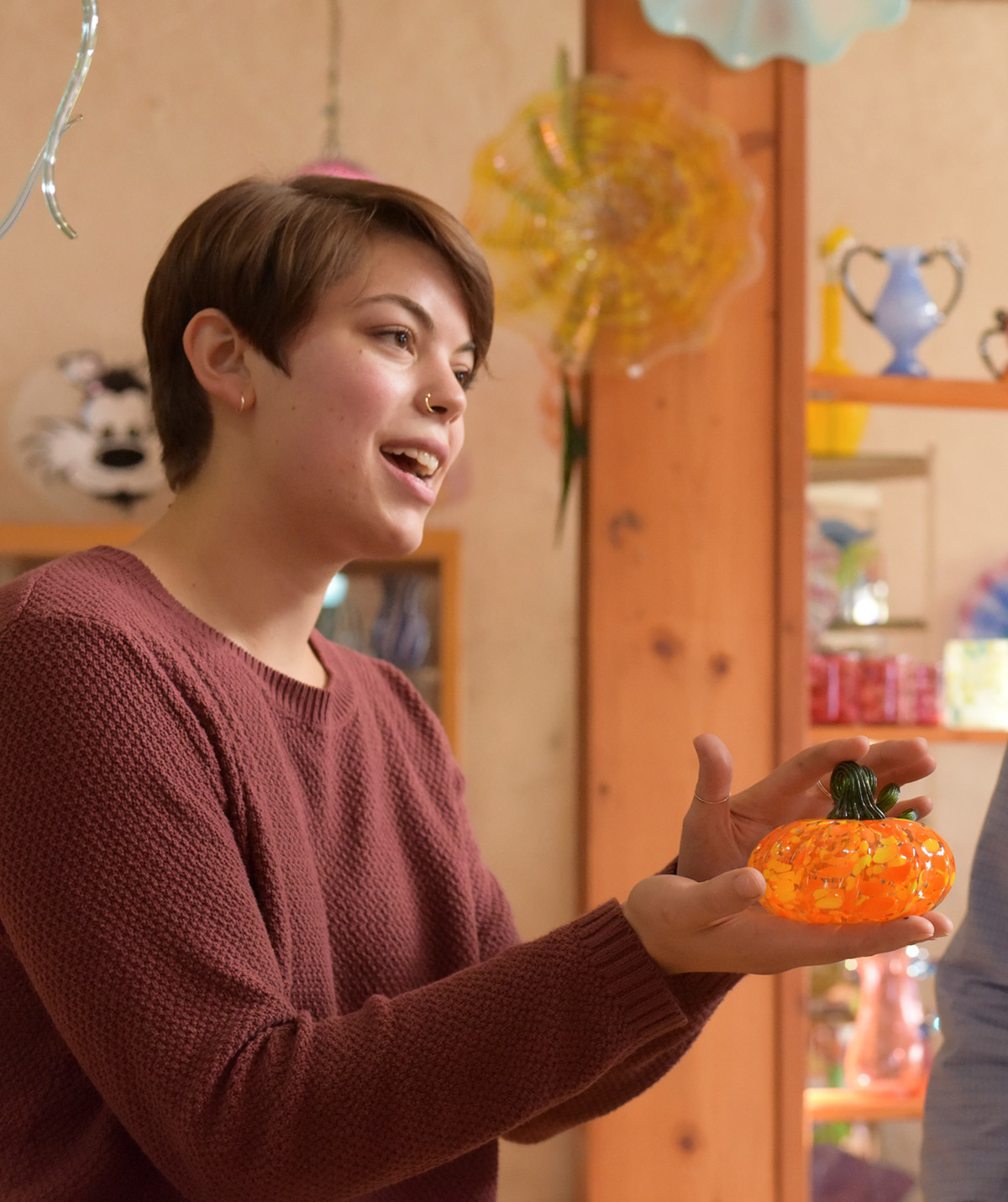 Natassja Ralph
Ralph walked unassumingly into Central GlassWorks for a class back in 2018. One day later and she was emailing inquiring after an apprenticeship to learn how to blow glass. A medium completely novel to her- but an art she was quickly taken by- made thinking about much else rather difficult and life without it unimaginable. Ralph often describes working with glass as "something magical"- no matter one's understanding of the material itself, the very nature of glass is to surprise. It's that sense of wonderment that she hopes to never lose in her journey as an artist, and looks forward to sharing those moments of awe with everyone else who unassumingly walks through the door.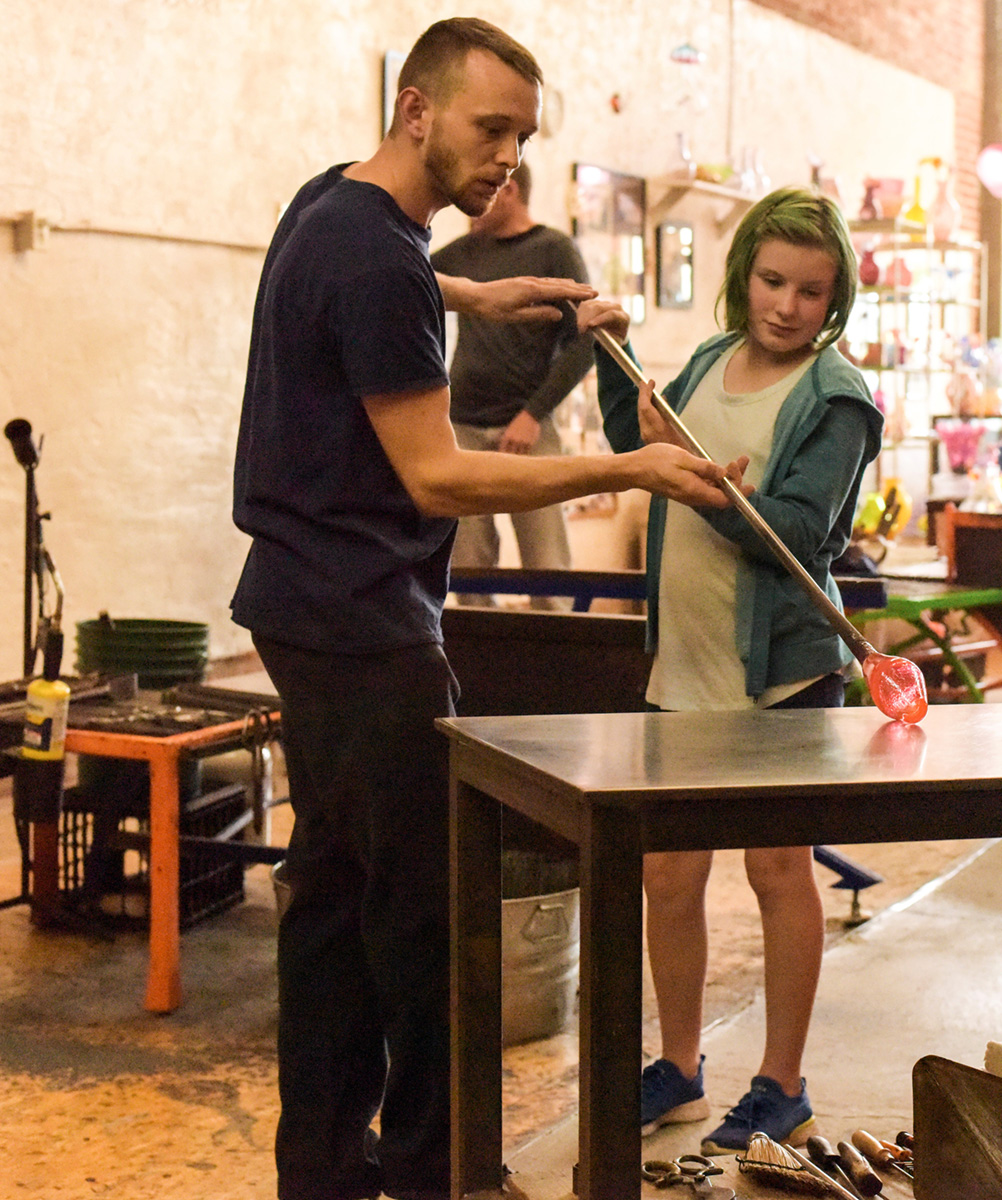 Jesse Clark
Jesse works in the hotshop at CGW and also on his torch at home making smaller items such as pendants and dragonflies (sold at CGW). Jesse started blowing glass on his torch at home six years ago. Deciding he wanted to continue his skill in glass, he started assisting and teaching in the shop about five years ago. He has not looked back and is consistently building his knowledge in the shop and at home where he operates his personal business under the name Fine Lime Glass. His experience makes him a valuable instructor.
HISTORIC CENTRALIA
Centralia is easy to find by car or train, and full of hidden gems. Take a class at our shop, then start exploring. Our downtown's personality is nostalgic, friendly, and fun!
Historic Downtown Centralia is located halfway between Portland and Seattle, the perfect meeting spot!
Shop for antiques, dine at one of our eateries, or simply take a moment to stroll our beautiful downtown!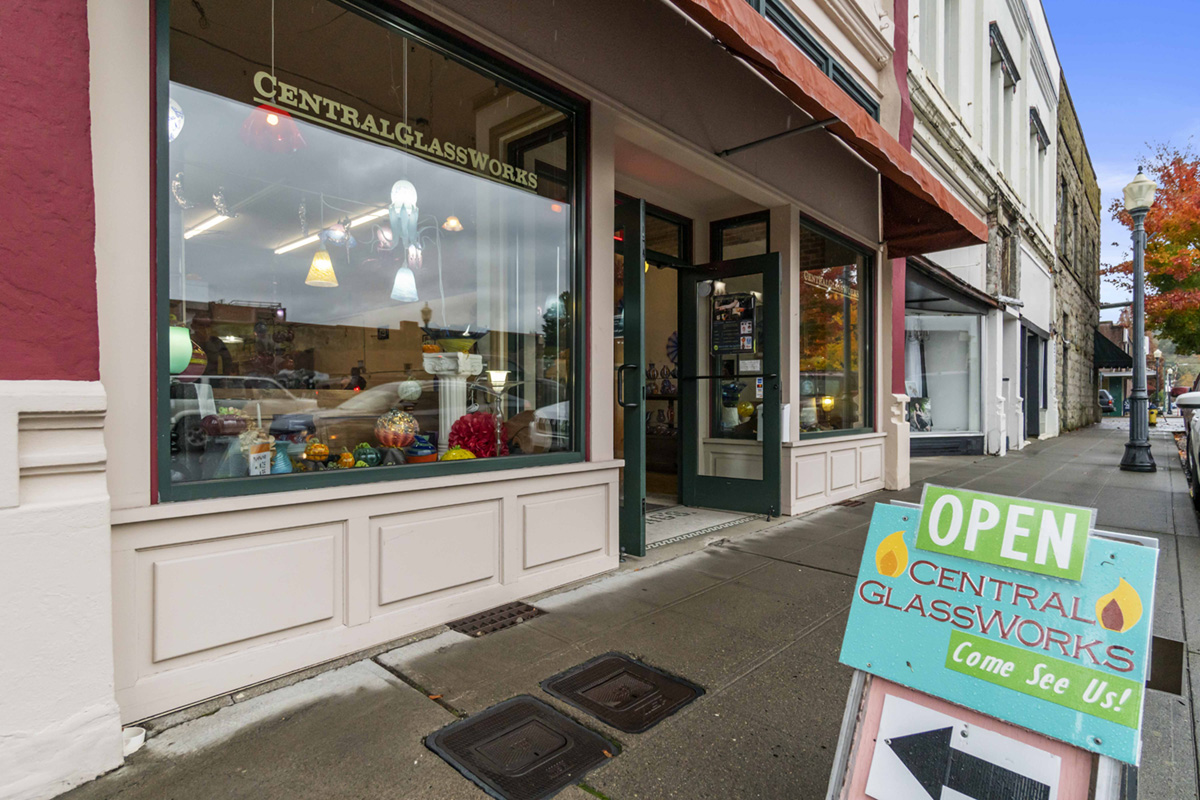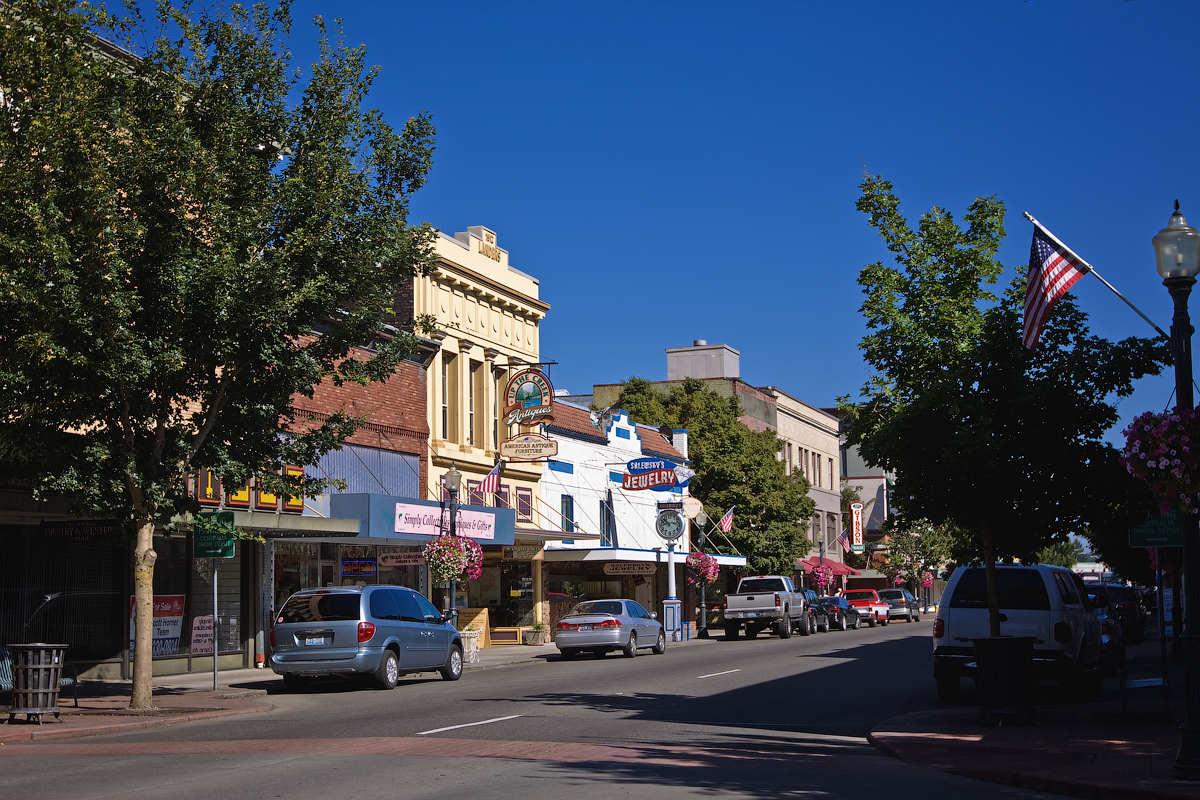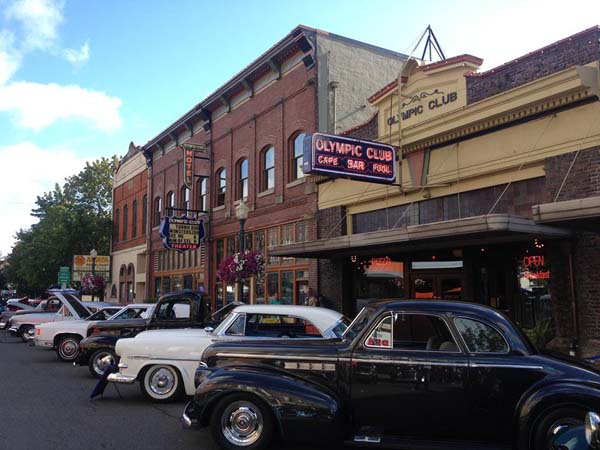 CONTACT US
Not sure where to start? No problem. There are several ways to contact us directly!
PHONE
(360) 623-1099
EMAIL
centralglass@localaccess.com
VISIT US
109 W Main Street
Centrailia, WA 98531
OR
Fill out the handy form to the right!